Kurt's Favorite Mottos
To Boldly Go..... Where No Man Has Gone Before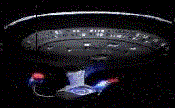 ---
---
Service Above Self

---

Attitude Is Everything

---

Have Fun and Make a Profit - In That Order!

---

No Amount of Planning Will Ever Replace Dumb Luck

---

Enough is as good as a feast! Mary Poppins

---

They Profit Most Who Serve the Best

---

If it was Easy, Anybody Could Do It!

---

The Will to Succeed is Nothing without the Will to Prepare

---

Rule #62: Don't Take Yourself Too Damn Seriously!

---

Time is the best teacher; unfortunately it kills all its students!"

---

Always remember you're unique, just like everyone else.

---

Suggestions????
Feel free to leave me your suggestions! Thank you. psalm40@psalm40.org
---
Please visit again in the future. Thank you.